Aerowaltz offers you to get gift certificate. Flight certificate gives the right for hot air balloon ride.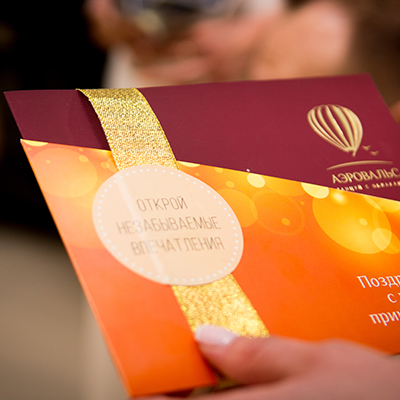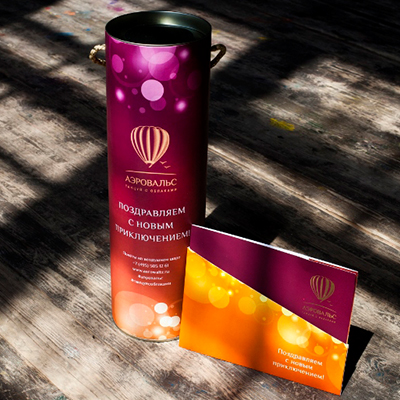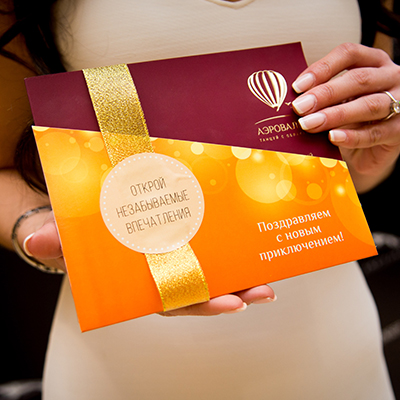 Where to buy
you can buy on-line certifcate via our web-site  (put 'v' infront of 'payment on-line')  or  order physical certificate delivery (put 'v' infront of 'delivery  of physical certificate', payment by cash or buy card to courier);
physical certificate (cash payment only) in Moscow office: Volokolamskoe shosse, 88 block.8, office 225 (how to reach us);
physical certificate (cash payment only) a  our Dmitrov location: 1  B, Pravonaberezhnaya str., Dmitrov (how to reach us);
Courier delivery  — cash payment or payment by card to our courier  (delivery within Moscow Automobile Ring Road is already included in price of certificate — order of  10 000 Rur.)
To activate your flight certificate 
How to order flight and certificate
Please examine our flight programmes, choose the program you prefer;
If you want to buy a flight for yourself — choose electronic certificate with online payment option. This cerftificate will be equal to a ticket foк flight; if you want to present flight certificate for your relatives or friends, please choose delivery of physical certificate and payment to our courier by cash or card;
You can find detailed information as of the flight organization, rules of behavior, terms and conditions of the flight in your certificate. Please examine this information attentively before the flight;
After purchase   of the certificate, please do not forget to register for flight via our web-site on preferable date and time.
Delivery package
certificate;
activation instruction;
our visit card;
loyalty card (order not less than 40 000 Rur.)
Print design variation 
electronic certificate (Will be sent to your e-mail after payment);
our beautiful certificate! (is already included);
gift tube with a map of flight region (+ 1500 Rur.).
Additional services:
| | |
| --- | --- |
| Gift tube | 1 500 Rur. |
| Champagne  | 1 500 Rur. |
| Basket with the fruits,sweets or sandwiches  | 7 000 Rur. |
| Bunch of flowers after flight  | от 3 000 Rur. |
| Photo, usb-flash with the photos after flight  | 7 000 Rur. |
| Video of the flight  | 3 000 Rur. |
| Complimentary banner on the basket  | 2 000 Rur. |
| Transfer from your place 1 car, 1-4 persons | from 10 000 Rur. |
Flight certificate has its validity period of 6 months from the moment of payment. Full prepayment is required.